"Never interrumpt your enemy when he's making a mistake."
I've read that this quote was said by Napoleon -of course- during the battle of Austerlitz when the austrians and russians took the high of the balley and that was what Napoleon wanted them to do.
Anonymous asked: I just wanted to say THANKS THANKS THANKS for this awesome blog -or whatever is this thing lol.- I'm happy not to being the only one madly in love with this great (and sexy -of course.-) man. I was starting to feel alone in this Napoleon's-heaters-world.
Oh goodness you're quite welcome. I'm only sorry to you and the rest of my wonderful followers (hello, new people!) for not posting more <3
We are not alone. Napoleon lovers are everywhere! But mostly…here.
My friend linked me to this, an old episode of Doctor Who. If you watch it to around 9:20, there's Napoleon! It's wonderful to see two of my favorite things collide in one orgy of awesome.

Hell to the yes.
Here is a little list of horses which the Emperor owned aka when you get a horse, you know how to name him now.
The most famous ones were:
Wagram, a gray Arab Napoleon rode from 1809 onwards, it was brought along during the Elba exile.
Roitelet, an English-Limousin chestnut given to Napoleon by Prince Eugene de Beauharnais, it carried Napoleon back from Russia and was ridden at Lutzen and Arcis-sur-Aube.
Intendant, a pure white Norman nicknamed "Coco" by the Imperial Guard. He was mainly used for parades and reviews because of his calm, steady, and graceful nature during such ceremonies.
Vizir, one of the Emperor's favorites, this gray Arab was a gift from the Sultan of Turkey in 1805 and 10 years later Napoleon brought it with him to Saint-Helena. It now resides — stuffed — in the Musée de l'Armée in Paris.
Marengo, a gray Arab captured after Waterloo. His skeleton is kept at the National Army Museum in London.
Tauris, this gray was a gift from Alexander (Tsar of Russia) was ridden by Napoleon at Vitepsk, Smolensk, Borodino, during his entrance in Moscow, and during the retreat from Russia. After being brought to Elba, it was ridden from Golf-Juan to Paris during the Hundred Days.
Cyrus, one of the horses Napoleon rode at Austerlitz.
Styrie, ridden by Bonaparte across the Great Saint-Bernard, and at Marengo.
Désirée, ridden at Waterloo.
The names of some of his other horses include: Aboukir, Familier, Cheikh, Triomphant, Austerlitz, Calvados, Cid, Cordoue, Sagonte, Sélim, Bouffon, Conquérant, Extrême, Folâtre, Gracieux, Timide, Sahara, Major, Belle, Distingué, Gisors, Lowska, Favori, Harbet, Néron, Tamerlan, Hippogriffe, Kurde, Labrador, Sara, Épicurien, Embelli, Gessner, Bréant, Wuzbourg, Montevideo, Artaxercés, Aly, Coceyre, Sultan, Russe, Estime, Arabella, Babylonien, Euphrate, Hahim, Harbet, Helavert, Héricle, Lydienne, Lyre, Naïade, Nankin, Naturaliste, Naufragé, Nausicaa, Navigateur, Navire, Ninon, Emin, Gonsalvo.
~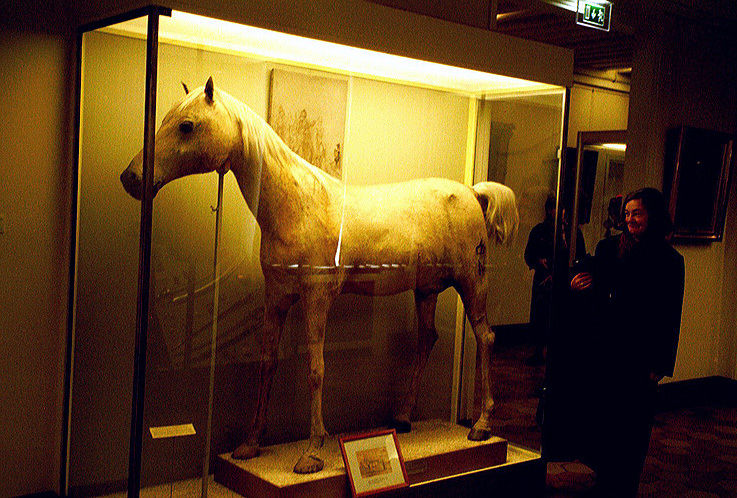 Vizir in Musée de l'Armée
OH GOOD GOD THIS IS AMAZING HERE LET ME SHARE ONE OF MY FAVOURITE NAPOLEON PIXX FOR GREAT SEXY JUSTICE.
Um.. have you read ANYTHING about Napoleon and Josephine's relationship? If this site is dedicated to the memory of Napoleon, then perhaps it wouldn't be too great of an idea to bag the crap out of the woman he loved.
Ever hear the last word that passed Napoleon's lips? That's right- 'Josephine'. Ever read one of his love letters? Ever hear about how on the night he came to his decision he collapsed on the floor and uttered over and over again, "My poor Josephine, I shall never be able to leave you."?
If this is dedicated to Napoleon as you claim  then have a little more respect.
 This wasn't a question, so I'm jess editing it.
Hello!
I've read tons and tons about Napoleon and Josephine. Honestly, their relationship was beautiful, if not always smooth sailing. And yes, I know of his last words, I've read (and posted—read the blog) his love letters. His devotion to her was incredible. She was his everything. I know all this.
I'm not saying she was a terrible person either. She wasn't!
But this blog is here not just to honor the memory of Napoleon, it's also here for me (and others who love Napoleon as much as me) to have a laugh. Every time I refer to her as TBJ it's what's commonly known as a joke. It is humorous because it displays my supposedly fanatical love of Napoleon, to the point where I'm jealous of his wife.
If it bothers you so much, you don't have to read the blog. So…thanks for the input, but relax.
Love, FYNB.
catiche-deactivated20111224 asked: Hey, où es tu? Where are facts about the most amazing man in history, m?
We (well, at least I) miss you!
Oh dear, I completely abandoned the blog for quite a while. Let's get it up and running again.
catiche-deactivated20111224 asked: Just. Don't. Call. Him. Nappy. Do it for me, please.
AND OMG, I MUST SAY THIS BLOG IS AMAZING<3. Just because of the title. Just because of these pictures. Just because of the phrase "Make Napoleon proud".
Anything for you, dear.
I'm so glad you like it! I hope you continue to enjoy the crazy stuff I (well, we if people join) put out.
"The surest way to remain poor is to be honest."
Napoleon, encouraging everyone in the world to be Regina George.